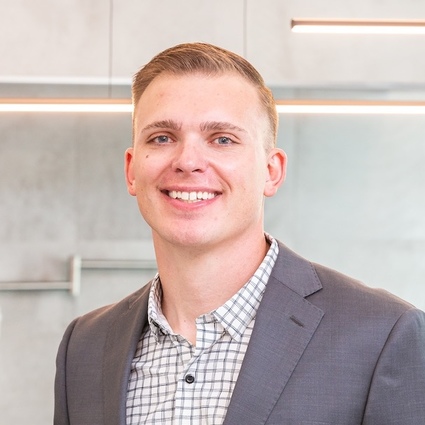 Christopher Wood
REALTOR®
A little about me
and why I love real estate
Why? That is a question everyone always asks. Why did you get into Real Estate? But how do you truly define such a passion with words? To me, the look in that families eyes when you hand them the keys to their first home, the laughter and excitement of the kids racing across the house to pick their own room, and the feeling of accomplishment that fills a room when the family stops to stare at something they now call their own. A home is a small piece of the American dream. A place where you build memories, make mistakes while learning life lessons and grow into the best part of yourself. What more could I ask for than to be a small part of the reason that all exists. That's why I do what I do.
Now to the details!
Christopher Wood, a licensed REALTOR®, Army Veteran, Team Owner and Founder for Revolution Realty Group has been servicing Real Estate needs since 2016. Christopher specializes in all facets of the Real Estate business, whether it be navigating the way for first time home buyers, aiding in military relocations, finding a quaint vacation home, buying new construction homes, investor rehabs/flips, selling an exceptional luxury residence or even locating rental houses and apartments. His goal is always to provide guidance and assist sellers, buyers and renters in marketing and purchasing property for the right price under the right terms. Provide property evaluations/statistics, consult clients on market conditions, prices, mortgages, and legal requirements while ensuring a fair and honest dealing. His drive, integrity and compassion for others has fundamentally contributed to a reputation for outstanding service all over San Antonio and surrounding areas. His community outreach doesn't just involve real estate. He also finds that giving back is one of the most meaningful and impactful decisions he can make which is why he volunteers his time and energy to various charitable events all over the city.
Christopher takes no shortcuts in being the best and currently holds Real Estate Designations for Accredited Buyers Representative, Accredited Luxury Home Specialist, Certified Home Marketing Specialist, Seller Representative Specialist, Real Estate Negotiations Expert and Pricing Strategy Advisor. This remains the tip of the iceberg due to his philosophy to never stop learning. Christopher believes knowledge to be power and this enables him to be the best version of himself for his clients. He also has extensive experience as a New Home Construction Sales Counselor ranking #1 in the state of Texas and Top 10 in the Nation thanks to his extensive market knowledge and unmatched dedication to service. His knowledge continues into many other fields such as Credit Counseling, Mortgage, Investing, and Financials.
Chris was born to a lower-class family and grew up on countryside of Kentucky making a living tending to livestock and maintaining farmland which also helped shape his mindset on the true definition of hard work. Chris later joined the United States Army at the early age of 17. Starting as a Combat Medic, and later progressing to an Army Flight Medic, he traveled the world, deployed to multiple indigenous countries and served honorably for 8 years. His life is devoted to God and his family and he enjoys nothing more than spending time with his beautiful wife Heather, two daughters Autumn and Adeline, brother Nikko, whom he has had custody of since the age of 6, and his mother Melissa whom he has the responsibility of care. He is an athlete by nature from playing semi-pro football for North Carolina to competing Nationally for Fitness Competitions. He enjoys mountain biking, kayaking, and any adventure sports he can get the opportunity to participate in. His goal is to be the best role model possible and help shape and guide his family into successful and genuine people.